Advertisement
This easy-to-make, moist and soft lemon cake has a fresh citrus flavor paired with fresh strawberries, which is perfect for spring or summer.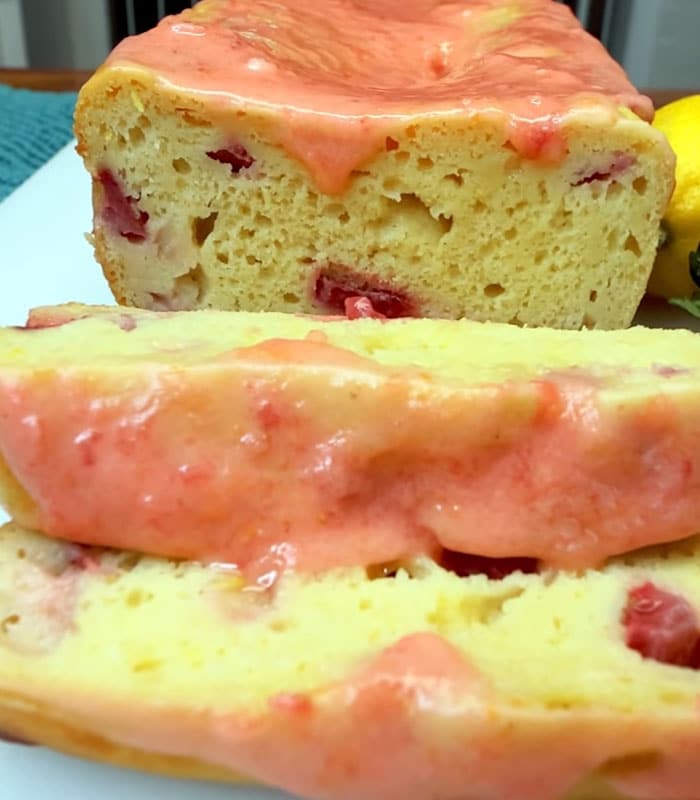 Servings: Makes 12 servings
3 Points® per serving
Advertisement
Every day we add new recipes to our Healthy & Tasty blog, so check back often!
I'm not linked with Weight Watchers in any way. I just like creating healthier recipe options and turning everyday meals into healthy alternatives.
Always make sure to check the points on the official calculator at the official WW site.
HOW DO I MAKE MY STRAWBERRY LEMON LOAF CAKE?
1. Zest and juice your lemons.
2. Add the flour, baking powder, baking soda, and salt in a medium bowl, and stir until combined.
3. Add the eggs, granulated sweetener, and yogurt to a large mixing bowl or mixer. mix until smooth.
4. Add oil and applesauce and mix again.
5. Then add 2 Tbsp lemon juice, 1 Tbsp lemon zest, and vanilla extract then mix again.
6. Slowly mix ingredients with moist ingredients, and mix until just combined, don't overmix.
7. Some lumps may still remain.
8. Then pour batter into a prepared 9X5 loaf pan.
9. Cook at 350 for 50 to 55 minutes.
10. Allow cooling completely in the pan.
11. To make the glaze, puree or mash the remaining 1/2 cup of strawberries.
12. Whisk powdered sweetener, strawberries together and about 1 tsp lemon juice.
13. If you want a thinner glaze you can add more juice.
14. Spread the glaze over the top Once the cake is cooled.
Continue on to the next page for the list of ingredients and print the recipe!
Advertisement