Advertisement
These Weight Watchers Apple Pie Egg Rolls are delicious, easy to make and only 2 points each! These Apple Pie Egg Rolls can be made in the air fryer or baked in the oven.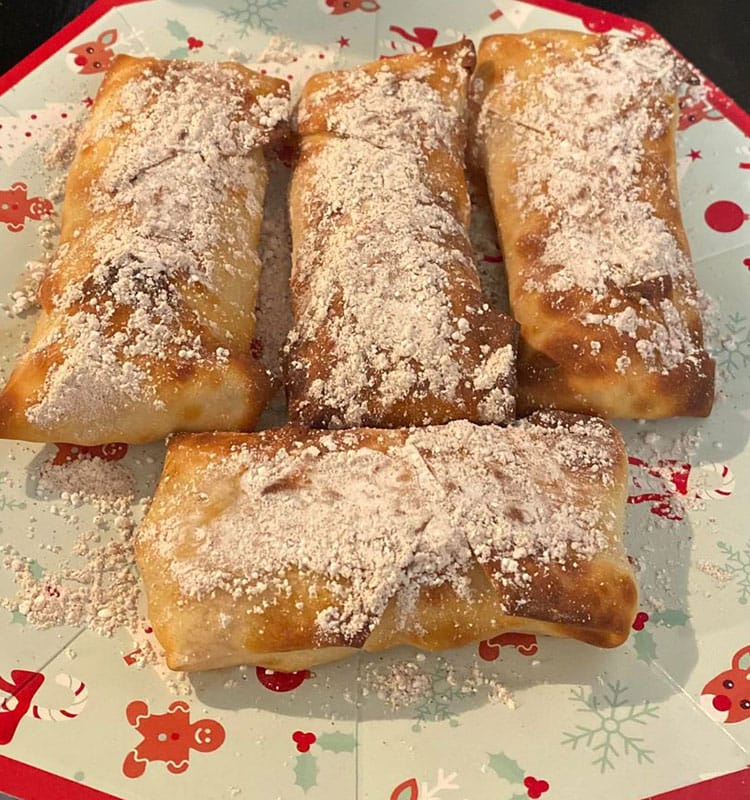 Servings: Makes 6 servings
2 WW Points® per serving
Advertisement
HOW DO I MAKE MY APPLE PIE EGG ROLLS?
Every day we add new recipes to our Healthy & Tasty blog, so check back often!
We are not linked with Weight Watchers in any way. We just like creating healthier recipe options and turning everyday meals into healthy alternatives.
Always make sure to check the points on the official calculator at the official WW site.
1. Start by peeling and chopping the apples.
2. Then add the apples to a bowl and stir in the lemon juice.
3. In a small bowl add the brown sugar, 1 tablespoon of Splenda and 1/4 teaspoon cinnamon.
4. Pour over the apples and mix together.
5. Lay out 1 egg roll wrapper and add two tablespoons of the apple pie mixture.
6. Fold the bottom of the egg roll wrapper up and fold in the sides.
7. Roll up the egg roll.
8. Wet the edge of the egg roll wrapper with water, then seal it closed.
9. Repeat with the remaining egg roll wrappers.
10. Add 1 tablespoon Splenda and 1/4 teaspoon cinnamon to a small bowl and stir together.
11. Spray the egg rolls with olive oil spray and sprinkle with the cinnamon mixture.
In the air fryer:
1. Cook egg rolls in the air fryer at 400 degrees for 8 minutes, flipping the egg rolls halfway through.
In the oven:
1. Bake egg rolls in the oven at 400 degrees F for 8 minutes, flipping halfway through.
Continue on to the next page for the list of ingredients and print the recipe!
Advertisement