Advertisement
This delicious Baked Oatmeal with Apples is a great recipe for breakfast and is low in WW Points and keeps me satisfied for hours.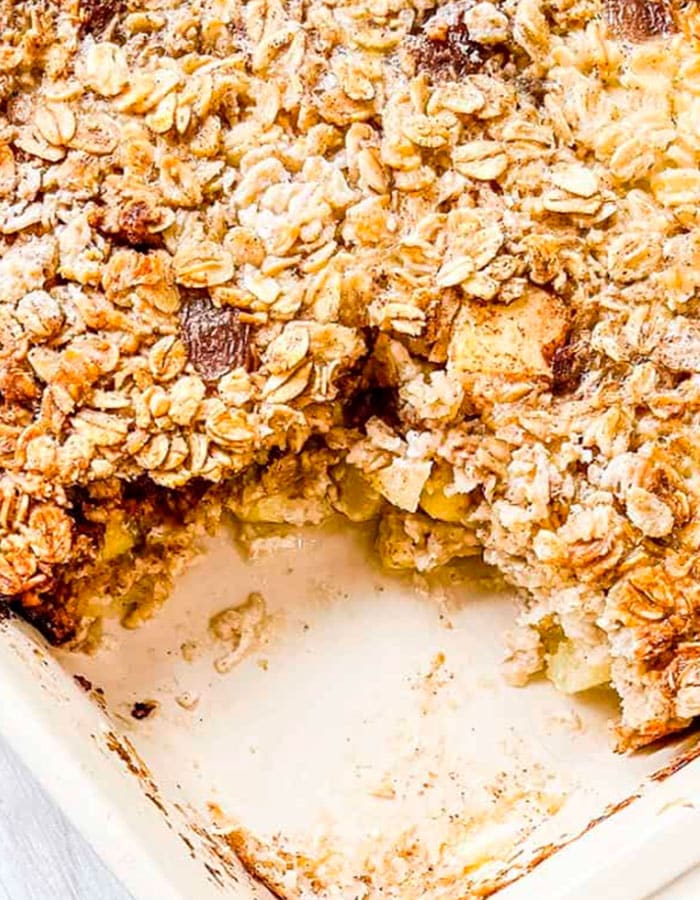 Servings: Makes 6 servings
2 Points® per serving
Advertisement
Every day we add new recipes to our Healthy & Tasty blog, so check back often!
We are not linked with Weight Watchers in any way. We just like creating healthier recipe options and turning everyday meals into healthy alternatives.
Always make sure to check the points on the official calculator at the official WW site.
A generous serving of this recipe keeps me satisfied from breakfast to lunch without the need for snacking in between!
HOW DO I MAKE MY BAKED OATMEAL WITH APPLES?
1. Preheat the oven to 325°F / 160°C
2. Grease an 8-inch baking dish with a little light butter and set aside.
3. Mix the oats with the sweetener, raisins, baking powder, cinnamon and salt in a bowl.
4. In another separate bowl whisk the almond milk, eggs and vanilla extract together until smooth.
5. Peel and core the apples and dice them into small bite-sized pieces.
6. Then put the apple pieces on the bottom of the greased dish.
7. Then Sprinkle dry the ingredients over the top of the apple pieces and pour over the milk and egg mixture.
8. Add small pieces of the remaining light butter on top of the mixture.
9. Bake in the center of the oven for 40 – 45 minutes or until golden brown.
10. Remove from the oven.
11. Serve warm or cold.
Continue on to the next page for the list of ingredients and print the recipe!
Advertisement