Advertisement
This weight Watchers Baked Ziti need only 15 minutes to prepare and it's an Italian Dinner with Ground Beef, oregano, thyme, rosemary, garlic, and Mozzarella cheese.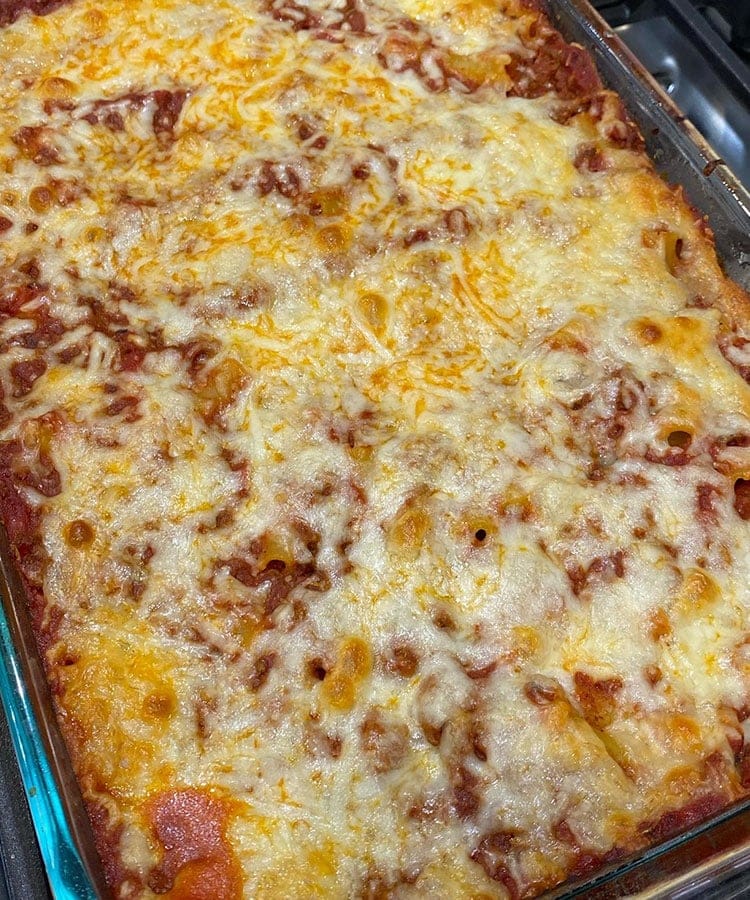 This recipe makes 8 servings
7 Points™ per serving
Advertisement
Plus, this dinner has under 300 calories, and 7.8 grams of fat. I use lean ground beef, and part-skim Mozzarella cheese to make it lighter than the original version.
This Weight Watchers Friendly Baked Ziti is A delicious comfort food pasta meal!
Every day, I add new recipes, so check back often!
My website is not associated with Weight Watchers/WW in any way. I just like creating healthier recipe options. I mostly give no advice regarding diet or eating habits. Before changing your diet, please consult a doctor.
Always make sure to check the points on the official calculator at the official WW site.
HOW DO I MAKE MY BAKED ZITI RECIPE?
Prepare the pasta according to the directions on that package. Don't add salt.
2. Drain the water off of the pasta, and set it aside.
3. Preheat the oven to 350° F
4. In a medium-sized saucepan, add olive oil.
5. Heat oil over medium heat.
6. Then add in garlic and saute for about 2 minutes
7. Add the minced meat and cook for five minutes.
8. Before placing the saucepan back on the heat, drain the fat.
9. Now you can add the rosemary, thyme, salt, pepper, and oregano.
10. cook for an additional two minutes.
11. Add in the tomatoes
12. Bring to a boil, reduce heat & simmer for 5 minutes.
13. On the bottom of the casserole dish, place a thin layer of ground beef mixture.
14. Place half of the prepared pasta in an even layer.
15. Place half of the ground beef mixture evenly over the pasta
16. Place half of the mozzarella cheese in an even layer over the meat layer
17. Do this with each layer with the remaining pasta, meat sauce, and cheese.
18. Bake in pre preheated oven approx about for thirty minutes or until the cheese is golden brown and bubbling.
Continue on to the next page for the list of ingredients and print the recipe!
Advertisement