ADVERTISEMENT
This Weight Watchers Big Mac Salad is so delicious and easy to make, low in calories and fat. This Big Mac Salad is a keeper!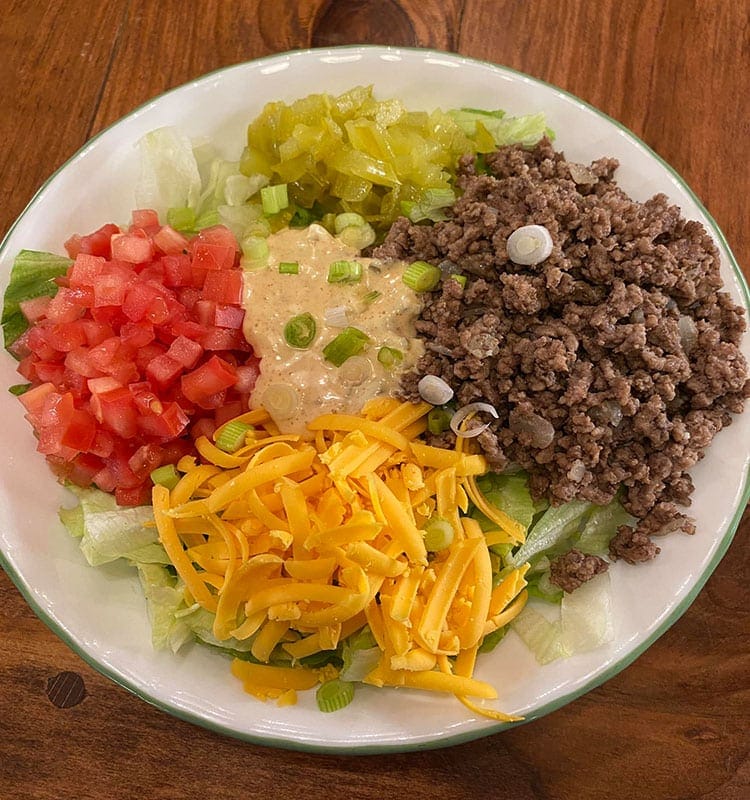 Servings: Make 4 large servings
6 WW Points® per serving
ADVERTISEMENT
Every day we add new recipes to our Healthy & Tasty blog, so check back often!
We are not linked with Weight Watchers in any way. We just like creating healthier recipe options and turning everyday meals into healthy alternatives.
Always make sure to check the points on the official calculator at the official WW site.
HOW DO I MAKE MY BIG MAC SALAD?
1. In a mixing bowl add the mayonnaise, relish, ketchup, mustard, garlic powder, onion powder and white vinegar.
2. Whisk together.
3. In a pan, add the minced beef, garlic, salt and pepper.
4. Cook the beef until brown.
5. Remove any grease and remove from heat.
6. Add 1 cup of lettuce, 1/4 of the ground beef, chopped onion, 1 tablespoon of cheddar cheese, pickle slices, and 2 tablespoons of the dressing to assemble the salad.
7. Repeat until all four salads are made.
Continue on to the next page for the list of ingredients and print the recipe!
ADVERTISEMENT