ADVERTISEMENT
Pumpkin season is officially here and you're gonna want to save this recipe!! These Weight Watchers Pumpkin Chocolate Chip Bars make for the best Fall treat, snack, or dessert!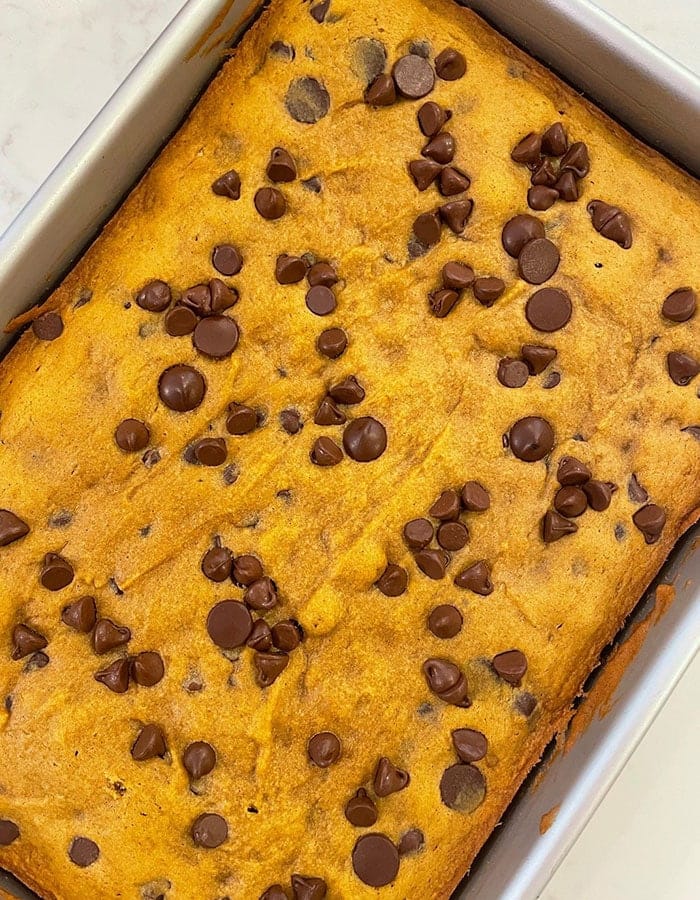 Servings: Makes 20 bars
1 Point™ per bar
ADVERTISEMENT
Every day we add new recipes to our Healthy & Tasty blog, so check back often!
We are not linked with Weight Watchers in any way. We just like creating healthier recipe options and turning everyday meals into healthy alternatives.
Always make sure to check the points on the official calculator at the official WW site.
HOW DO I MAKE MY PUMPKIN CHOCOLATE CHIP BARS?
1. Preheat the oven to 350 degrees.
2. Spray the baking pan 9×13 with non-stick cooking spray, set aside
3. In a large mixing bowl, combine flour or pancake mix, pumpkin pie spice, baking soda, and baking powder. Stir to combine.
4. In another separate bowl mix together the pumpkin purée, hot water, and sugar sweetener.
5. Stir until combined.
6. Whisk egg and vanilla extract until well combined.
7. Gradually mix the dry ingredients together until combined
8. Add 1/4 cup sugar-free chocolate chips and continue stirring until combined.
9. Spoon batter into the prepared pan batter will be a bit sticky- don't worry that's totally normal.
10. Sprinkle and press the remaining 1/4 cup of chocolate chips on top.
11. Bake for 28-30 minutes.
12. Before cutting them into 20 equal slices, let them cool for 5 minutes. Enjoy!
Continue on to the next page for the list of ingredients and print the recipe!
ADVERTISEMENT