Advertisement
This Funfetti Cheesecake is made with Greek yogurt, eggs, sweetener, a bit of Funfetti cake mix, and sprinkles-it's high in protein, low in points, and is the perfect guilt-free sweet dessert.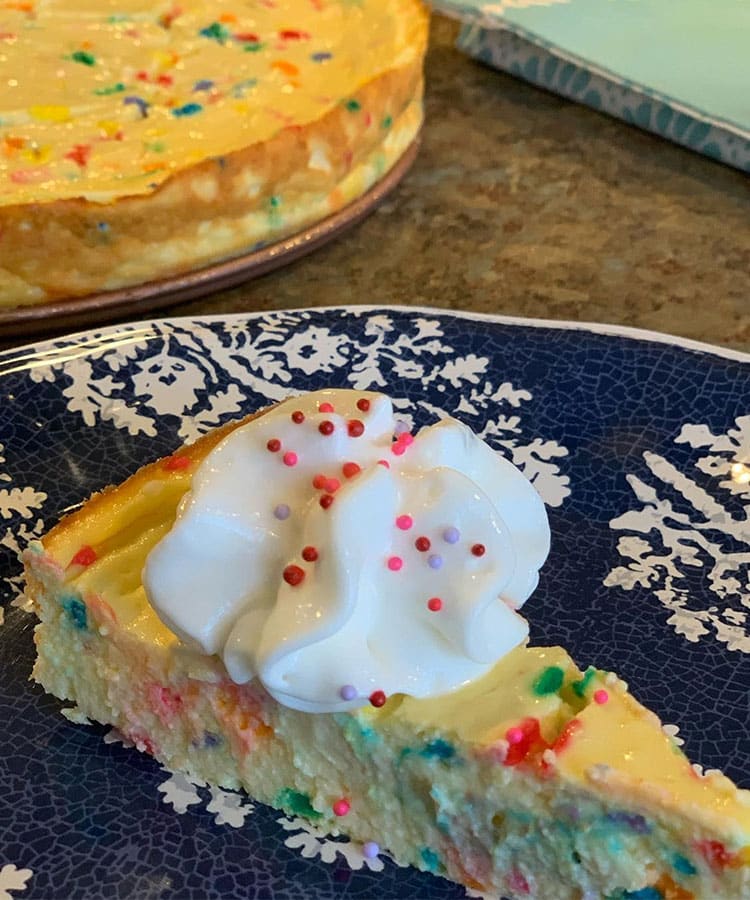 Servings: Makes 8 servings
2 Points™ per serving
Advertisement
This Funfetti version of my cheesecake was inspired by one of Instagram's favorites, @wwpointsplan.
To make this One Point Weight Watchers Funfetti Cheesecake you will:
1. Preheat the oven to 350 degrees.
2. Add eggs and sugar substitute to a large mixing bowl.
3. Whisk until well combined.
4. Add yogurt, Funfetti cake mix, extract, dry pudding, and sprinkles; mix well using a wire whisk.
5. Pour into a lightly greased non-stick cooking spray pie dish or SPRINGFORM PAN.
6. Bake for 30 minutes.
7. Let it cool for about 15-20 minutes before covering it with plastic wrap.
8. Let it chill overnight in the refrigerator.
WHAT DO I BAKE THE CHEESECAKE IN?
I use THIS 9-INCH SPRINGFORM PAN. If you wish, you can also use a 9-inch pie dish.
HOW DO I STORE THE CHEESECAKE?
The cheesecake can be stored in an airtight container in the refrigerator for 7-10 days or frozen for up to 3 months. Place the cheesecake in the refrigerant overnight to thaw.
Continue on to the next page for the list of ingredients and print the recipe!
Advertisement