Advertisement
If you are following a weight loss program and you thought bagels were off-limits and normally you'd be right. Don't worry because these 2 Ingredient Weight Watchers Bagels are a game-changer and this is one of my most popular recipes of all time because they are delicious and easy to make. Only 3 Points each.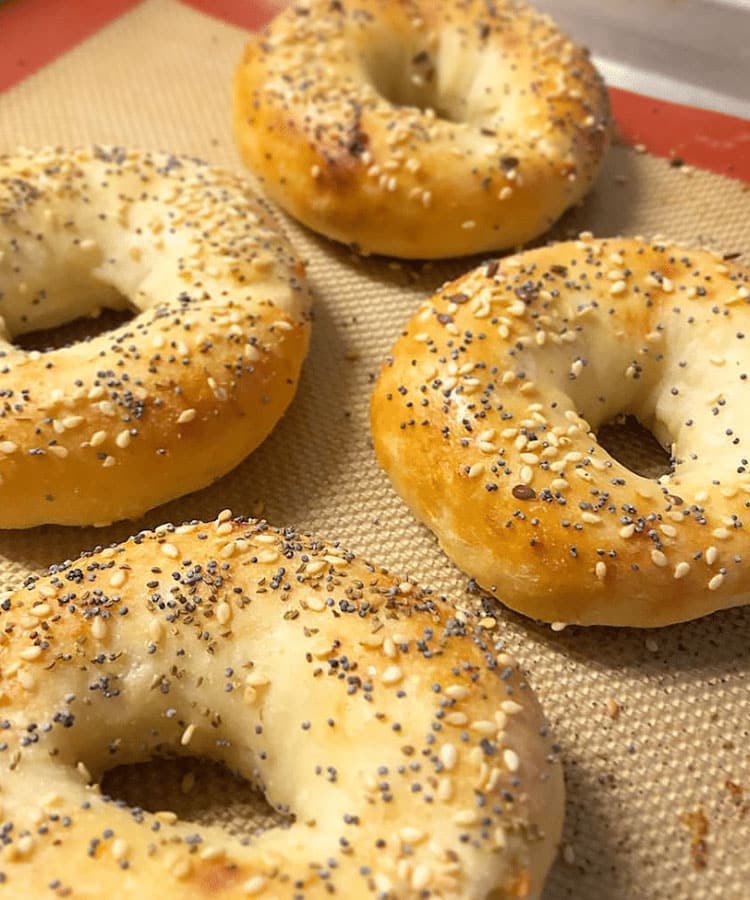 Servings: Makes 4 Bagels
3 Points® per bagel
Advertisement
HOW DO I MAKE THESE WEIGHT WATCHERS TWO-INGREDIENT BAGELS?
1. Preheat the oven to 350 degrees.
2. In a bowl, combine 1 cup of self-rising flour and 1 cup of Fage Total 0% Greek Yogurt until a dough starts to form.
3. Brush your hands with a bit of flour and turn the dough on a lightly floured surface.
4. Knead and divide into 4 parts.
5. Then roll out each dough ball to form a rope and pinch the ends of each rope together to make a circle. You will have four bagels.
6. Then beat just one egg and brush over the bagels and sprinkle with everything except Trader Joe's Bagel Seasoning.
7. Finally, Bake your bagels at 350 degrees on a pan sprayed with cooking spray for 23 minutes and at 500 degrees for 2 minutes so the tops can brown. Enjoy!!
WHAT TOPPINGS CAN I USE FOR THESE TWO-INGREDIENT BAGELS?
I bought Trader Joe's Everything but the Bagel seasoning from Amazon. This stuff is amazing! You can use it too on bagels, eggs, avocado toast…everything!
2 INGREDIENT WEIGHT WATCHERS BAGELS
These two-ingredient bagels use self-rising flour which you can buy pre-made or make yourself. I make my own self-rising flour and have always had wonderful results.
Continue on to the next page for the list of ingredients and print the recipe!
Advertisement